Hunter Wars series – Books 1 – 3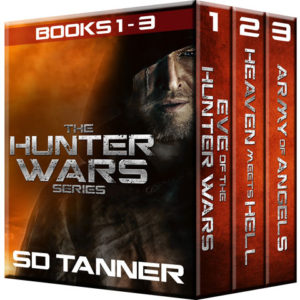 Books 1-3 of Hunter Wars, Part One of The Hunter Wars series
This omnibus edition of the Hunter Wars contains the first three books: Eve of the Hunter Wars, Heaven Meets Hell and Army of Angels.
Gears, Pax and TL are brothers and soldiers in the US Army when the world comes to an abrupt halt. Thrust into the apocalypse, they decide mankind deserves another chance. Their ruling puts them at the centre of an epic battle between good and evil, and they uncover the hidden truth behind the Devil in the land of the undead. Along the way, they meet a woman they name Ip and their true role is revealed.
Eve of the Hunter Wars
Forming the first of their bases, they call survivors to their side and unwittingly make enemies of the undead and the living. Determined to succeed, they take drastic steps to secure safe havens for those left alive.
Heaven Meets Hell
New friends are found, but the face of evil makes its presence known in the safety of their bases. Pax makes a mistake and Ip pays the price, but Gears refuses to let his new enemy rule the day.
Army of Angels
Determined to fight fire with fire, Gears offers the survivors the choice of infection. Mackenzie does the unthinkable, creating a remarkable outcome that makes Gears question everything he knows about life.