USA TODAY BESTSELLER
The Complete Navigator series – All Four Books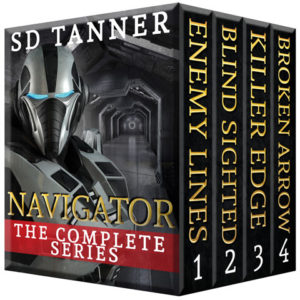 The Complete Navigator series
This omnibus edition of the Navigator series contains all four books: Enemy Lines, Blind Sighted, Killer Edge and Broken Arrow.With hydraulics, armor and advanced vision, Navigators are soldiers of the future, and in the game of survival of the fittest, they become the only hope man has to fight for their right to dominate.
Enemy Lines
After nearly being executed in a war zone, Staff Sergeant Leon Shield finds himself urgently recalled from deployment, and lands back home to a defeated country. In a matter of days, and without a single shot being fired, a new species has taken over the world. Determined to survive Armageddon, the only chance to fight back is to find a man called Ark, and use an untested technology to become Navigators.
Blind Sighted
Leon and Ark elect to train their new Navigator squad outside the wire, while Bill works with the weapons engineers to solve the bigger problems. The medical team are taking the critters apart, desperately looking for anything that will give them an edge.
Killer Edge
Our team match the enemy by creating a little critter magic of their own. New forces join them, and survivors add their weight to the fight, further changing what becomes possible. First contact is made, and believing they are running headlong into failure, Ark learns to take the lesser loss.
Broken Arrow
The aliens take a step too far and Ark decides it's time to go all in. Sending all of their Navigator battle teams to the nests, they uncover unexpected allies in a final showdown that will determine which side will rule earth.
The Navigator series is a fast paced, action-based story following the people who will need to become a tight knit team if they're to defeat an enemy capable of taking over the world.
We have four trilogies set in the same world, but each can be read independently.  If you would like to read them in order this is the sequence: Navigator, Bombardier, WarriorSR and Replicant.